This is an entire minature doll collection of Picture Perfect Babies by Yolando Bello.

I also own all of the original size dolls in this collection except for two.

Jason the clown which came before I started collecting and Emily.

I am afraid that I lost Emily during a move.

My daughter started me on this collection and we thought that Heather

was the first in the series.
| | |
| --- | --- |
| |       |
| Amanda | Matthew |
| |       |
| Danielle | Heather   Jessica |
| |       |
| Sarah | Jennifer |
| |       |
| Lisa | Michael |
This is the only collection that I own, but I have a lot of other dolls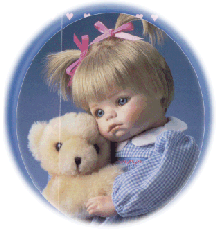 Hannah

This Doll in Called Hannah Needs a Hug.. Doesn't your heart just go out to her?

She is the first issue in the Lots of Love collection.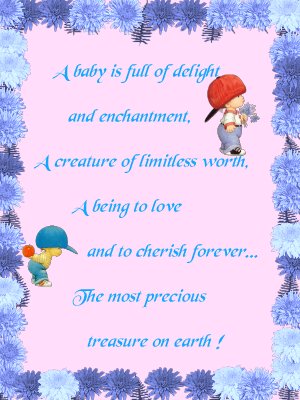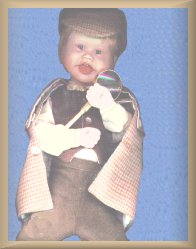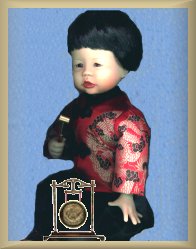 Sherlock      Chen
This is another of Yolanda Bello's dolls
I'd like you to meet Roberta born on June 11, 1998:)

These Dolls are in the Just Caught Napping collection by Adrienne Brown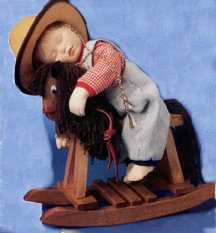 This one is called Asleep in the Saddle
I call him my Michael because he was given to me by my daughter and youngest
grandson for helping Mom through his birth.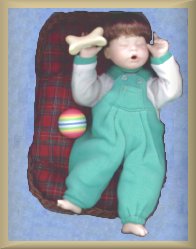 This little cutie is called Dog Tired.
I hope the dog isn't ready for a nap too.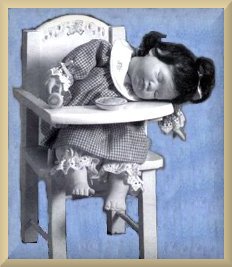 And here is Oatmeal Dreams.
How many times have your children fallen asleep in their dinner? :)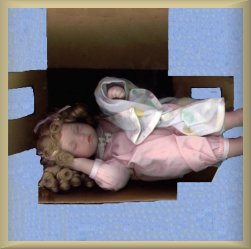 This little darling fell asleep while playing house. It is entitled "Private:Keep Out"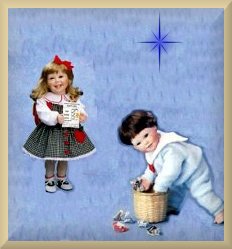 This is Katie and Ricky
Katie if from the McMemories collection,
the official McDonalds's Collectibles Club.
She has a McDonalds school bag on her back and comes with a GOOD report card.
Ricky is the first lively mischief-maker in the Little Handfuls collection.
How can you resist these beautiful kids?
This is just a sampling of the dolls that I have.
Watch for more of my collections to come soon.
MY OTHER PAGES
Sign My Guestbook

View My Guestbook